Is Climate Change Water Change in Maryland?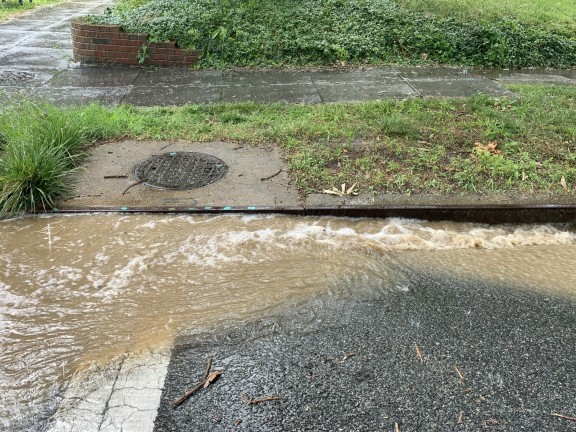 Hannah Brubach, Chesapeake Legal Alliance
Many do not realize the impacts that climate change is having and will have on coastal and inland communities. As our climate changes, we are seeing increased storm events across the watershed. State and federal studies and research demonstrate that the Mid-Atlantic region of the United States is experiencing more intense and frequent heavy precipitation events. Annual rainfall averages in the Chesapeake Bay watershed have also increased over the last 15 years. The quality and quantity of stormwater runoff from paved areas is directly related to changes and increases in the intensity, duration, and frequency of storm events AND to the legacy of government decisions about where to put roads, trees, and parks.
With this type of hard data, you would expect the Maryland Department of the Environment (MDE) to begin taking serious action to protect its communities. MDE knows that we need to update our infrastructure and our stormwater permits to be adaptable for our changing climate. MDE knows we need to use innovative best management practices to reduce polluted stormwater runoff. MDE knows that every state action must be implemented with climate adaptability in place. Just this month, MDE finally began answering our advocacy requests and released a new webpage – Climate Change is Water Change.
MDE knows the hazards of flooding and polluted runoff are directly related to changes and increases in the intensity, duration, and frequency of storm events.
This relationship is clear, yet MDE has largely failed to adequately consider this relationship and adapt the state's Clean Water Act permits that regulate stormwater pollution. Even if the state begins to mitigate and reduce harmful greenhouse gas emissions, it will still have to adapt to a climate that is clearly changing, and which we know will continue to change for decades to come.
The mitigation of climate change is very important; however, it is only half of the full picture of climate change. Our policies with respect to climate change cannot be complete without adequate emphasis on adapting to climate change. Maryland must begin prioritizing both climate adaptation and climate mitigation, as described on MDE's "Climate Change is Water Change" webpage.
CLA Advocacy
At Chesapeake Legal Alliance, we are advocating for climate adaptation to be a priority in Maryland by participating in Maryland Commission on Climate Change meetings and submitting detailed comment letters to MDE. Currently, the Maryland Commission on Climate Change is prioritizing mitigation. CLA attends every meeting to ask the Commissioners to pay attention to the stormwater permits up for renewal by MDE, as the requirements in these permits have the potential to be the most significant climate adaptation policy or program the state has to protect Marylanders and prepare them for the future. Instead of further strengthening these permits to build upon an innovative pollution control and climate adaptation policy in the expired permits, the Department is proposing to weaken or eliminate the requirements in the municipal and industrial stormwater permit that would result in less flood water and polluted runoff. Rainfall is increasing at an alarming pace and yet the draft stormwater permits proposed by the Department not only fail to keep up with this increase, but actually propose to dramatically reduce the amount of stormwater management that must take place over the next five years, compared with previous efforts.
On MDE's new webpage, it acknowledges that it knows about the impacts our changing climate has on your communities. However, we have yet to see actions that match these words to protect our communities and our environment from the impacts of climate change. In the coming weeks and months we will get a sense of how serious and committed Maryland leaders really are about protecting our state from the worst impacts of climate change when they issue the new stormwater permits – and, whether Maryland truly believes "Climate Change is Water Change."
This post was originally published by the Chesapeake Legal Alliance.